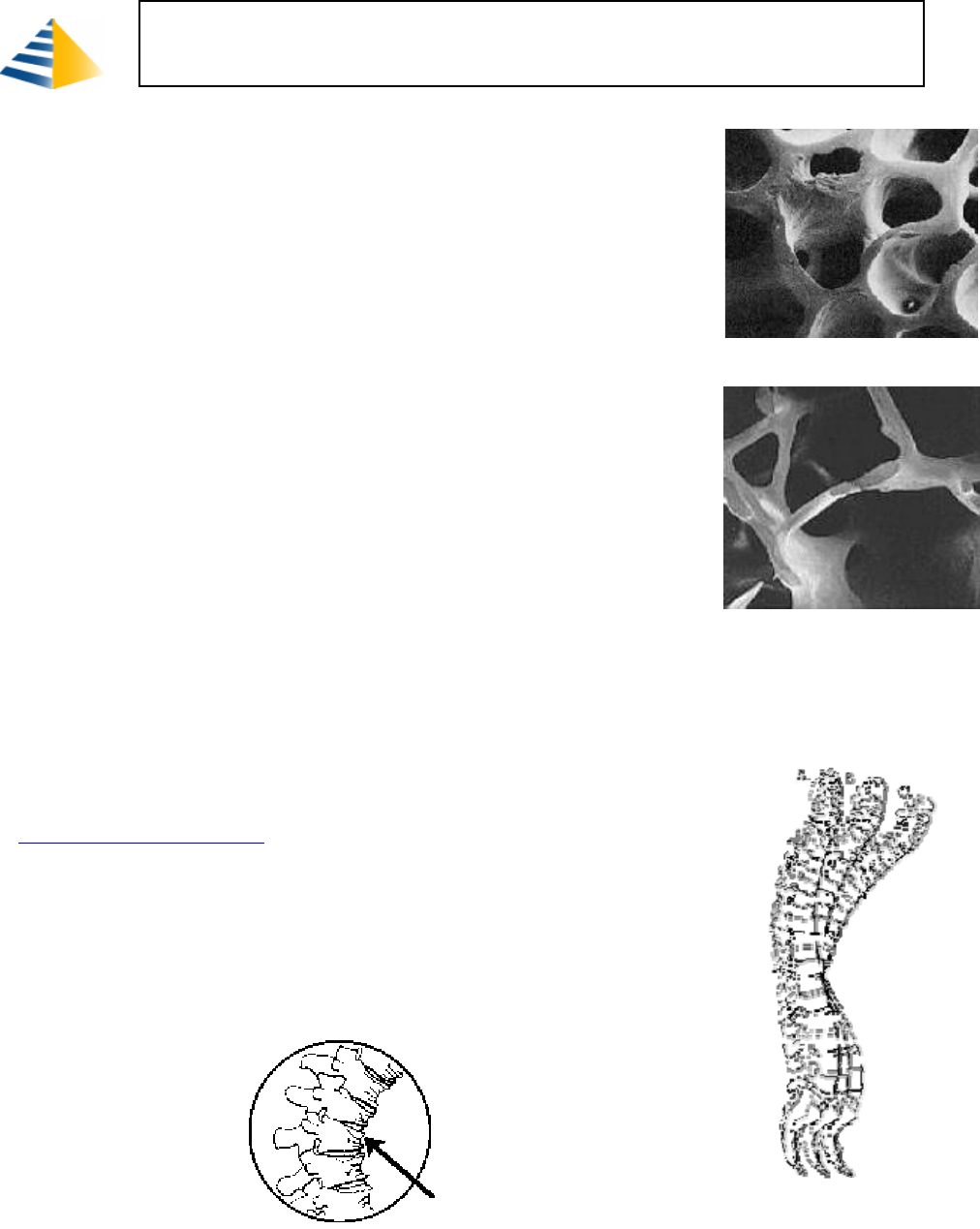 The Association of Minimally Invasive Gynecologic Surgeons
…dedicated to safe, state-of-the-art surgery and health life-styles for women of all ages
It is important to understand that bone is not a hard and lifeless structure; it is,
in fact, complex, living tissue. Our bones provide structural support for muscles,
protect vital organs, and store the ca
lcium essential for bone density and
strength.
Because bones are constantly changing,
they can heal and may be affected by
diet and exercise. Until the age of about 30, you build and store bone efficiently.
Then, as part of the natural aging process, your bones begin to break down
faster than new bone can be formed. In women, bone loss accelerates after
menopause, when your ovaries stop producing estrogen - the hormone that
protects against bone loss.
Think of your bones as a savings accoun
t. There is only as much bone mass in
your account as you deposit. The critic
al years for building bone mass are from
prior to adolescence to about age 30. Some experts believe that young women
can increase their bone mass by as much as 20 percent - a critical factor in
protecting against osteoporosis.
Assessing Your Bone Health
Normal Bone
Osteoporotic Bone
reprinted from Dempster, DW et. al.
J Bone and Mineral Research 1986; 1:15-
21 with permission of the American
Society for Bone and Mineral Research
To determine if you have osteoporosis or
may be at risk for the disease, your
doctor will ask you a variety of questions about your lifestyle and medical
history. Your doctor will want to know if
anyone in your family has suffered from
osteoporosis or if they have fractu
red bones. Based on a comprehensive
medical assessment, your doctor may recommend that you have your bone
mass measured.
A
bone mass measurement
is the only way to tell if you have osteoporosis.
Specialized tests called bone density test
s can measure bone density in various
sites of the body. A bone density test can:
•
Detect osteoporosis before a fracture occurs
•
Predict your chances of fracturing in the future
•
Determine your rate of bone loss and/or monitor the effects of
treatment if the test is conducted
at intervals of a year or more.
Vertebral Fractures
A. Normal Spine
B. Moderately Osteoporotic Spine
C. Severely Osteoporotic Spine