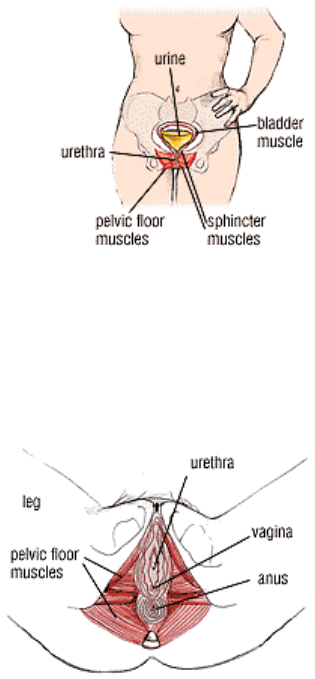 Exercising Your Pelvic Muscles
Why exercise pelvic muscles?
Life's events can weaken pelvic muscles. Pregnancy, childbirth, and being overweight can do it.
Luckily, when these muscles get weak, you can help make them strong again.
Pelvic floor muscles are
just like other muscles. Exercise can make them stronger. Women with
bladder control problems can regain control through pelvic muscle exercises, also called Kegel
Pelvic Fitness in Minutes a Day
Exercising your pelvic floor muscles for just 5 minutes, three times a
day can make a big difference to your bladder control. Exercise
strengthens muscles that hold the bladder and many other organs in
The part of your body including your hip bones is the
pelvic area
. At
the bottom of the pelvis, several layers of muscle stretch between your
legs. The muscles attach to the front, back, and sides of the pelvis
Two pelvic muscles do most of the work. The biggest one stretches
like a
hammock. The other is shaped like a triangle. These muscles
prevent leaking of urine and stool.
How do you exercise your pelvic muscles?
Find the right muscles.
This is very important. Your doctor,
nurse, or physical therapist will help make sure you are doing the
You should tighten the two major muscles that stretch across
your pelvic floor. They are the "hammock" muscle and the
"triangle" muscle. Here are three methods to check for the
1.
Try to stop the flow of urine when you are sitting on the
toilet. If you can do it, you are using the right muscles.
2.
Imagine that you are trying to stop passing gas. Squeeze the muscles you would use. If
you sense a "pulling" feeling, those are the right muscles for pelvic exercises.
3.
Lie down and put your finger inside your vagina. Squeeze as if you were trying to stop
urine from coming out. If you feel tightness on your finger, you are squeezing the right
The pelvic muscles work to
control the release of urine.
You can make these pelvic floor
muscles str
onger with a few
minutes of exercise every day.