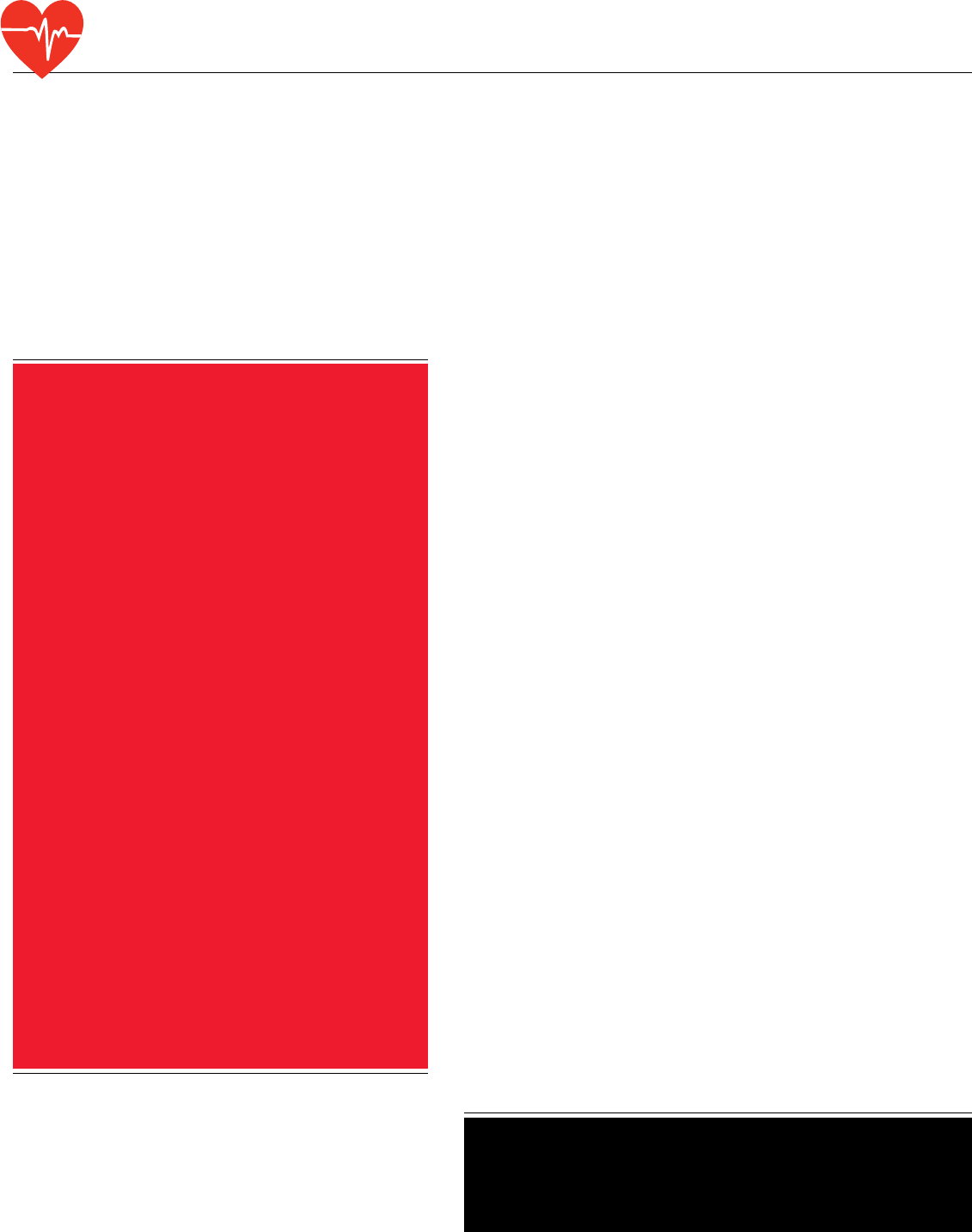 Heart Attack/Sudden Cardiac Death
Some heart attacks are sudden and intense, but most
start slowly, with mild pain or discomfort. Often the
people affected aren't sure what's wrong and wait too
long before getting help. Here are some signs that
can mean a heart attack is happening.
• Chest discomfort. Most heart attacks involve
discomfort in the center of the chest that lasts
more than a few minutes, or that goes away
and comes back. It can feel like uncomfortable
pressure, squeezing, fullness or pain.
• Discomfort in other areas of the upper body.
Symptoms can include pain or discomfort in one
or both arms, the back, neck, jaw or stomach.
• Shortness of breath. May occur with or without chest
discomfort.
• Other signs. These may include breaking out in
a cold sweat, nausea or lightheadedness.
If you or someone you're with has chest discomfort,
especially with one or more of the other signs, don't wait
longer than 5 minutes before calling for help.
Call 9-1-1.
Calling 9-1-1 is almost always the fastest way to get
lifesaving treatment. Emergency medical services (EMS)
staff can begin treatment when they arrive — up to an hour
sooner than if someone gets to the hospital by car. The
staff are trained to revive someone whose heart
has stopped. You'll also get treated faster in the hospital if
you come by ambulance.
A heart attack occurs when the blood supply to part of
the heart muscle (the myocardium) is severely reduced
or stopped because one or more of the heart's arteries is
blocked. The process usually begins with atherosclerosis,
the buildup of fatty deposits (plaque) inside artery walls.
The plaque can rupture, causing a blood clot to form and
block the artery. If the blood supply is cut off for more
than a few minutes, heart muscle cells suffer permanent
injury or die. This can kill or disable someone, depending
on how much heart muscle is damaged.
Sudden Death From Cardiac Arrest
Cardiac arrest is the stopping of the heartbeat. When a
person's heartbeat stops abruptly and unexpectedly, it's
called
sudden cardiac arrest

. Death can occur within
minutes after the victim collapses. This is called
sudden
cardiac death
or SCD. The term "massive heart attack"
is often mistakenly used to describe SCD. A heart attack
may cause cardiac arrest and sudden death, but it's not
the same thing.
The most common underlying cause of sudden cardiac
arrest is a heart attack that results in ventricular fibrillation
(VF) (quivering of the heart's lower chambers). This
irregular heart rhythm causes the heart to suddenly stop
pumping blood. No statistics are available for the exact
number of sudden cardiac arrests that occur each year.
However, about 330,000 people a year die of coronary
heart disease (CHD) in an emergency department or
before reaching a hospital. That's two-thirds of all deaths
from CHD — more than 900 Americans each day. Most of
these deaths are from sudden cardiac arrest.
When Minutes Count
A victim of VF sudden cardiac arrest suddenly collapses,
is unresponsive to gentle shaking and stops breathing
normally. Brain damage can start to occur in just 4 to 6
minutes after the heart stops pumping blood. Death may
be
prevented if the sudden cardiac arrest victim receives
immediate bystander cardiopulmonary resuscitation (CPR)
and defibrillation within a few minutes after collapse. CPR
consists of mouth-to-mouth rescue breathing and chest
compressions. It can help keep blood flowing to the heart
and brain until emergency help arrives. Defibrillation
can stop the abnormal, erratic rhythm and allow the heart
to resume its normal rhythm. An automated external
defibrillator (AED) provides an electric shock, which is the
only way to defibrillate.
If no bystander CPR is provided, a victim's chances of
survival are reduced by 7 to 10 percent with every minute
of delay until defibrillation. The cardiac arrest survival rate
is only about
5 percent

if a system for providing early
defibrillation is not present in a community. In cities
with "community AED programs," when bystanders
provide
immediate
CPR and the first shock is delivered
within
3 to 5 minutes
, the reported survival rates from VF
sudden cardiac arrest are as high as 48 to 74 percent.
Thousands of portable, computerized AEDs are now used
in police and emergency vehicles and many public
buildings. Lay rescuers can be trained to use them. If
survival rates from sudden cardiac arrest increased from
5 percent to 20 percent, about 40,000 more lives could be
saved each year.
•
If symptoms last more than a few minutes,
call 9-1-1

or the emergency medical services (EMS) immediately. Note the time that the first symptom started.
•
If someone collapses suddenly and
is unresponsive,
begin CPR immediately. If you don't know how to do CPR, the EMS dispatcher can tell you what to do. Use an automated external defibrillator

to shock the
victim's heart, if an AED is available and if you're trained to use it.
•
Clot-busting drugs

are a major advance in treating acute heart attack and stroke. If given within a few hours of the start
of a heart attack, they can minimize heart damage. If given within 3 hours of the onset of a stroke caused by blood clots, they can reduce long-term disability.